The Craft
Source
An all time favorite movie to watch I am very interested in paganism and witch craft. Even though I don't practice it I find it intriquing to learn about both fiction and not fiction. I absolutely love Nancy Downs sense of style especially when she goes crazy and her hair goes from sleek to tousled. I wish I could get my hair like that. My new hair cut is inspired by styles like hers in combination with others as well.
Crazy Nancy Downs Hair
Source
The Nightmare Before Christmas
I love all Tim Buton movies. I like this because it's a holiday classic and a must watch every year for Halloween and Christmas. And as some of you may know Halloween is not just a holiday, it's a lifestyle. So it's good any time of the year. I have all of the sounds form the movie on my playlist for Creepmas, Halloween, and spooky movies.
The Corpse Bride
I love Emily and her determination to find a husband in life and after death. It's like "Okay I got ditched at the alter and died. I'm staying to this tree until somebody marry's me and somebody will, because I'll be damned for otherwise." It's so stubborn and badass. A few years ago I painted of portrait of Emily that I absolutely adore. I just love the whole underworld that she brought Victor into. She's a cute Zombie Bride and I absolutely adore her.
Edward Scissorhands
Source
I love Edward Scissorhands he's the only guy named Edward that deserves to be loved(joking twilight humor). I love his style though I think it's kind of gross that her worn absolutely the same thing everyday and I wondered how he managed to shower, change, eat, cook, or do anything to take proper care of himself. But he's the sweetest most misunderstood guy that I think a lot of people can relate to and not just Goths, but anyone that has any experience being a misunderstood outcast or anything.
I love his crazy hair, it reminds me of the 80's backcombing and hair teasing hair styles. It's so messed up but in a good way. Sometimes when my hair is messed up I mess it up even more to form it into a style and do an extra good job on my makeup and really work my wardrobe to create a cohesive look. I'd really love to do a female cosplay of Edward Scissorhands one day.
Coraline
Source
It was one of the cutest cartoons I've seen. I love cartoons that take you to an alternative universe like Alice and Wonderland filled with all sorts of odities and wonders. It inspires so much fashion,music, and art. I love creepy, cooky, artistically damaged dolls. I am the proud owner of 5 Living Dead Dolls. I love to creepy buttons for eyes, and the courtyard reminded me a lot of Scary Godmother.
Scary Godmother Halloween Spectacular
Source
I first dicovered Scary Godmother a few years ago when I was babysitting my neice and nephew and they left but the tv was still on, though I wasn't paying much attention to it. Then it caught my attention when heard the music. I sat down and watched to first and second movie absolutely hooked. I want the key to Scary Godmothers house, her interior design, friends, and her whole world. I can't wait until I have my own apartment or house. I'm definately gonna decorate it with a Scary God mother theme along with all of my other favorite movies. I went to target yesterday I saw the halloween home decor section and I just thought about my future house and how one day I will be getting all of those things to incorporate into my home.
Source
Monster House
Source
I dicovered this movie last year when it came on for Halloween. I wanted to know the story behind the house and how it got that way and I wasn't disappointed. I loved it.
Hocus Pocus
Source
I loved this movie since I was a kid. I love the costume design of the Witches , they're house, the spell book with the eye on it and everything.
Halloweentown
Source
It's a Disney Channel movie that used to come on when I was a kid I loved watching it every year along with all of its sequeals.
Under The Bed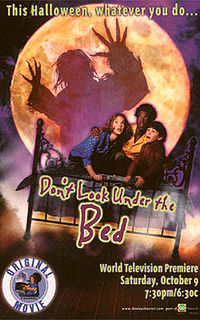 Source
Another Disney Channel Movie Favorite about a girl with an imaginary friend and then growing older and had something spooky under her bed and another imaginery friend and lots of adventures.
Easy A
Source
It came out one my birthday when I turned 19 and me and my sister went to go see it. Again I love the Costume design of Emma Stone in this movie and I just love her as an actress. I love her in the move The Help as well.
The Addams Family Values
I love Wednsday Addams she's so smart and witty and could careless about being different. I love how close and alike her and her whole family are. I also love Christina Ricci as an Actress. The thanksgiving scene is an all time holiday favorite.
Casper
Casper the Friendly ghost again another misunderstood character that I abosuletly adore and againg another movie with Christina Ricci. Yay I can't wait until 30 days of Halloween comes on tv so and can see all of my favorites.
Beetlejuice
Source
Beetlejuice Beetlejuice Beetlejuice I love this movie I love both families and the're quirky sense of humor and of course lydia's fashion. She's so whatever and doesn't care about the ghost. Note to Self: watch some good horror movies and ghost stories before I die just incase I have to haunt my own house one day knowing that the new people can't see or hear me yet I can still move and touch things. Yay lol. Adam and Barbara's attempt at scary away the new family is nothing short of hilarious.
Chucky
Source