Today I had a photo shoot with Micheal From RAA photography, model Travon and a Yoga Instructor Opal Rose, and a makeup artist(sorry I forgot her name I'll check that for you later). This is my second time working with Micheal and the experience was nothing but good. I will be receiving photos back from our last shoot soon to share with you guys on my Model Mayhem and Model Insider accout. Due to adult content (slight nudity) I will not be posting these images on facebook. Possibly the not so racy ones will be posted here and maybe facebook page.
It was fun, I haven't done yoga in a while and I'm not to flexible especially with a crink in my neck, but I did just fine by not breaking anything. Yoga, Dancing, Acting, and Makeup Artistry are defenitely good things to get into if you are pursueing a career in modeling. It will help to make you more self aware, well versed, and marketable especially for Agencies If you are thinking of joining any somewhere along in your career.
Shooting nudes or implieds are not for everyone. If you just started modeling and you are a little body concious I DO NOT suggest that you jump right into nudes, especially if you are only doing it for the money. If you are uncomfortable it will show on camera, and those images will become USELESS to you and the photographer. With that being said, unfortunately a model left early today, because she was not comfortable with the nature of the shoot. It's definately not something for everyone. You have to have the passion for it and being comfortable with the people you are working with, in front of the camera, and in general. Honestly if you would've asked me to shoot nudes a year ago when I first started modeling, I probably would have looked at you strange, "I'm sorry you want me to shoot in what? No thank you I don't shoot nudes." then smile and walk away.
Now I'm more of a free spirit and I'm learning to use my body as a work of art. As I learn more and more about the industry and the people around me, I'm better able to access who and what I'm comfortable with so I don't mind shooting nudes now, but I have conditions. I have to be comfortable with the concept, the person, their work, and the location in which I will be shooting in and a whole bunch of other things as well.
Thanks everyone for stopping by to read my blog. I really appreciate it, I can't believe I have 287 views and 4 followers already. I never thought of myself as much of a writer or a blogger. I signed up for blogger to follow the blogs I read often, show support to them, and keep up with their post. Now as I start networking more and more and other bloggers inspire me to create my own, I've found myself posting here more often. So thanks sincerly for your support. I know theirs lots of other blogs out there so thanks so much for taking time to check out mine. :-)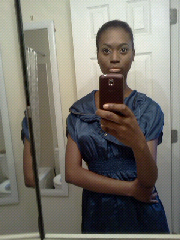 Heres me with different makeup (curtesy of the makeup artist) not my usual dark or heavy look, but pretty cool.